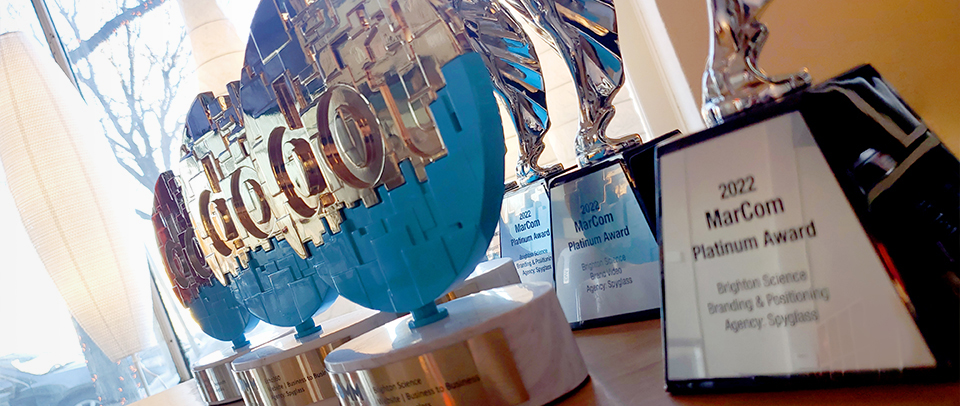 The winners? Our clients.
As award season heats up, we are reflecting back on 2022 and all the amazing work we were able to partner with our clients on. Some of which was recognized by the largest brand and digital award groups in the world for being the best of the best.
Echo360 dotCOMM Gold
Spyglass helped edtech pioneer Echo360 create an ownable space in the market as the leader in Inspired Learning, engaging every learner, anywhere.
Brighton Science 2 x MarCom Platinum and dotCOMM Gold
Spyglass recommended BTG Labs rename to Brighton Science and establish a new category domain only they could own, Surface Intelligence.
NutraSweet MarCom Gold
Spyglass created a multi-channel, persona-based campaign that leveraged the distinct "swirl" of the old NutraSweet brand and promoted the new NutraSweet's sugar-like taste against sugar itself, not just against other sweeteners that use stevia.
Lakewood Cemetery dotCOMM Platinum and Gold
Spyglass helped Lakewood celebrate their 150th anniversary by welcoming everyone in and creating new traditions for people to remember and honor their loved ones.
Friends of the Boundary Waters MarCom Gold
Spyglass created a Brand Playbook to align Friends and help the internal team understand the brand more clearly so that all communications come from a shared perspective, with clear conviction, and it includes a compelling and inspiring vision that people want to be a part of.
dotCOMM Awards
The dotCOMM Awards are an international competition honoring excellence in web creativity and digital communication. We are honored these websites have been recognized as some of the best in the industry.
MarCom Awards
Since its inception in 2004, MarCom Awards have evolved into one of the largest, most-respected creative competitions in the world.
Platinum for the Brighton Science Brand Video
Platinum for Brighton Science's Brand and Go-to-Market
Gold for the Friends of the Boundary Waters Wilderness Brand Playbook
Gold for NutraSweet Natural's Product Launch